Psio Crew
The origins of Psio Crew [pɕiɔ krɛv] reach as far as year 2004 in Bielsko-Biała, Poland. The pioneer fusion of traditional melodies with elements of drum and bass, trip hop and dub moved the music scene among the country and abroad, making the joint of original mountain singing with beatbox the recognizable characteristic of the band.
The debue album "Szumi Jawor Soundsystem" ("Sycamore Sough Soundsystem") released in 2007 – as it sais on it's cover – "arised from need of creativity and joy of experiencing music of old and new times". It is a proof, that music has no barriers, and can unite and multiply audience.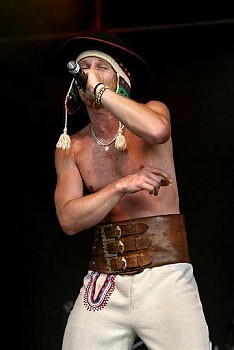 Autor: fotowojcik.eu
Psio Crew has played on many international festivals, such as: Siget Festival (Budapest, Hungary), Fusion Festival (Larz, Germany), Open'er Festival (Gdynia, Poland), Woodstock (Kostrzyn, Poland), Terra Polska (Berlin, Germany), Colours of Ostrava (Ostrava, Czech Republic), Art&Craft Fair (Jerusalem, Israel) and Festial in Baku (Azerbaijan), Porgy&Bess (Viena, Austria), Lotos Jazz Festival (Bielsko-Biała, Poland) and Polish Radio Concert Studio in Warsaw.
In 2006 the band got I award of Majówka Tatrzańska in Zakopane (Poland) and III award during Nowa Tradycja Feistval (New Tradition) organized by Polish Radio. In 2007 the "Machiner" award was achieved for "most inetersting debue" and in 2008 Psio Crew was nominated to the "Fryderkyk" award in two categories: Ethno/Folk album of the year and New Face of Phonography. In 2009 the band took part in "Artistic Zone" project in Tbilisi. During their stay in Georgia, the band recorded together with the choir Chweneburebi and Senegalese artist Mamadou Diouf, Polish-Georgian-African song "Sissa".
In 2010, the group has suspended operations. At that time Psio Crew founders established their own projects. Mateusz Górny created, among others, Gooral project, which successfully gives concerts at home and abroad. Gooral recorded three albums: "Ethno Electro" (2011.), Gooral & Mazovia dvd and cd (2013.) and "Better Place" (2014). Maciej and Katarzyna Szymonowicz created a project Etnograff, wrote the book "Gajdosze" which contains two CDs of contemporary and archival highland music. (I award "Phonogram Sources" – Nowa Tradycja Festival 2015).
In 2015 the band Psio Crew reactivated, it has been selected among together with Kayah & Transoriental Orchestra to represent Polish during the concert "Sounds like Poland" at the prestigious international festival "Crossing Cultures".
Psio Crew members:
Anna Dobija – violin and singer
Katarzyna "Katka" Dyga – Szymonowicz – singer
Mateusz "Gooral" Górny – synthesizers, electronics, beatbox
Mikołaj Stachura – drums
Maciej "Kamer" Szymonowicz – singer, contrabass, pipe, beatbox
Resources
Management & booking
Aneta Błażejczyk
aneta@psiocrew.pl
+48 513 359 609
Łukasz Adamczewski
lukas@psiocrew.pl
+48 696 055 611